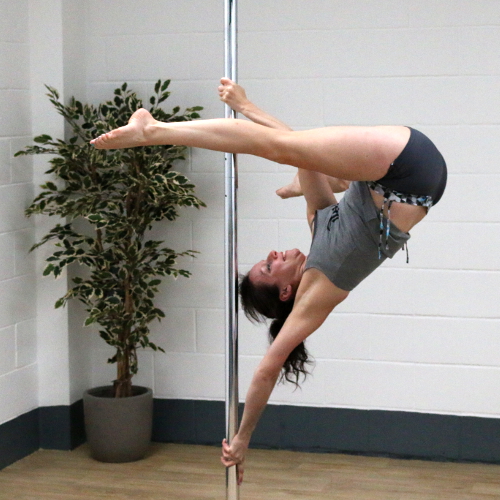 Our level 6 advanced moves and tricks course is for those who have taken our level 1 – 5 pole fitness classes (or equivalent levels) and wish to progress on to the next level. You may also join this class if you have taken an equivalent pole class at another pole school – please do get in touch before booking.
As with our previous levels you will learn pole walks, spins, floor work, routines, and work on your strength and flexibility. On this level 6 course we will revisit some of the moves in levels 1 – 5 and continue working on harder spins, transitions and routines. We will also continue working on our climbing, seats, inverts. This course follows on from our inverted tricks course and continues helping you progress with your pole fitness. This level 6 course is an on going 'advanced' class and will constantly test you with new moves and progressions to try in a safe environment. This course helps to train your body and builds your strength to help you progress with your pole dancing. In this level you will continue to work on inverts while still revisiting spins you have previously learnt.
You can continue to join this level 6 as the course structure fits around the current students levels.
Pre-Requisites: Our Level 1 – 5 Pole Fitness Courses / Equivalent course at other pole school (please get in touch first) You MUST also be able to hold a flower, perform shoulder mount and an aerial invert. Please contact me if you are unsure if you are ready to join this level.
Example Moves: Ayesha, Aerial Shoulder Mount, Handspring
Class Includes: Warm up, a recap of moves previously learnt, strength training / flexibility work, new moves, cool down.
Course Details
Price: £45 per 4 week course
Course Duration: 4 weeks
Days & Times: Tuesdays 8:30pm
Instructor: Holly Munson
Location: Firefly Poles Studio