Our Intermediate & Advanced Aerial Hoop course is perfect for those who have completed our Aerial Hoop Beginners course a few times until you feel comfortable to try moves on top of the hoop. This is a great course for you to build up your aerial hoop skills using good, safe practices, and build a great foundation for future aerial hoop classes.
You will learn to mount the hoop in new ways and mount the top of the hoop, work on individual moves, combinations and routines whilst working on your strength and flexibility.
You will recap over moves taught in the previous lessons as well as learning new moves. This course helps to train your body and builds your strength to help you progress with your hoop moves.
This intermediate course adds on from our beginners course – we will work on new harder moves and combos whilst putting our beginners moves to use in combos and entries to other moves.
PLEASE NOTE: Due to COVID-19 our hoops are now untaped to allow for more frequent cleaning. It is therefore best to wear shorts and have skin grip on the hoop.
Pre-requisites: Our Aerial Hoop Beginners Course / equivalent course at other aerial school (please get in touch before booking)
Example Moves: Scarabs, Pop on Mounts, Shoulder Stands
Class Includes: Warm up, recap of moves previously learnt, strength training / flexibility work, new moves, cool down.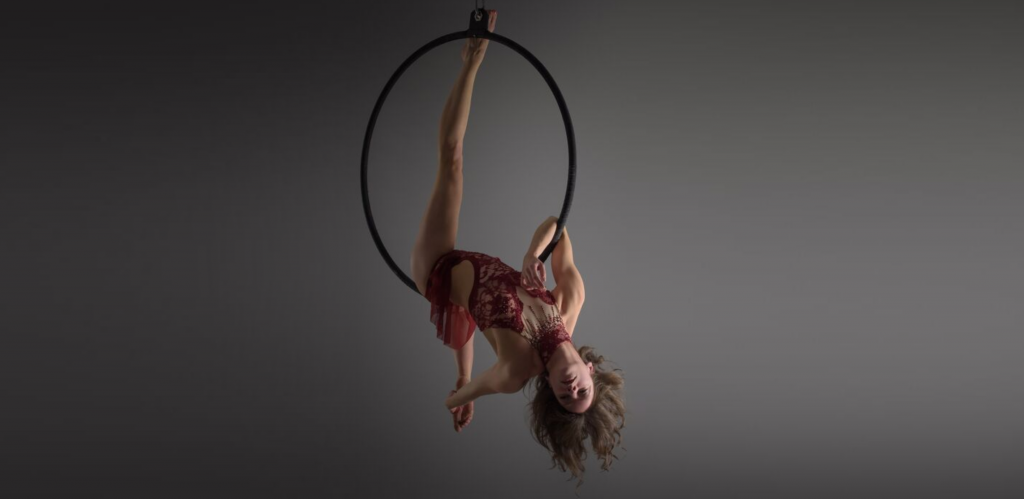 Course Details
Price: £45 per 4 week course
Course Duration: 4 weeks
Days & Times: Sundays 11:00am
Instructor: Holly Munson
Location: Firefly Poles Studio