Our beginners aerial hoop course is perfect for those who are completely new to aerial hoop, or those who would like to go back to basics. This is a great introductory course for you to learn aerial hoop using good, safe practices, and build a great foundation for future aerial hoop classes.
You will learn to mount the hoop, work on individual moves, combinations and routines whilst working on your strength and flexibility.
You will recap over moves taught in the previous lessons as well as learning new moves. This course helps to train your body and builds your strength to help you progress with your hoop moves.
People of all fitness levels can take part in this course, so don't worry if you think you won't be strong enough. You will start to increase your strength with every move you do. Of course we also work on our flexibility – you will get closer to those splits every time you try!
This beginners course is an important first step towards our intermediate aerial hoop course. The beginners course focuses on moves under and in the hoop and helps you build up strength to be able to work on top of the hoop in our intermediate and advanced courses. For that reason it is best to book onto our beginners course for a few terms – I will constantly give you new moves to work on and try until you are ready to move up a level.
PLEASE NOTE: Due to COVID-19 our hoops are now untaped to allow for more frequent cleaning. It is therefore best to wear shorts and have skin grip on the hoop.
Pre-requisites: Basic level of fitness
Example Moves: Delilah, Stag Seat, Man on the Moon
Class Includes: Warm up, recap of moves previously learnt, strength training / flexibility work, new moves, cool down.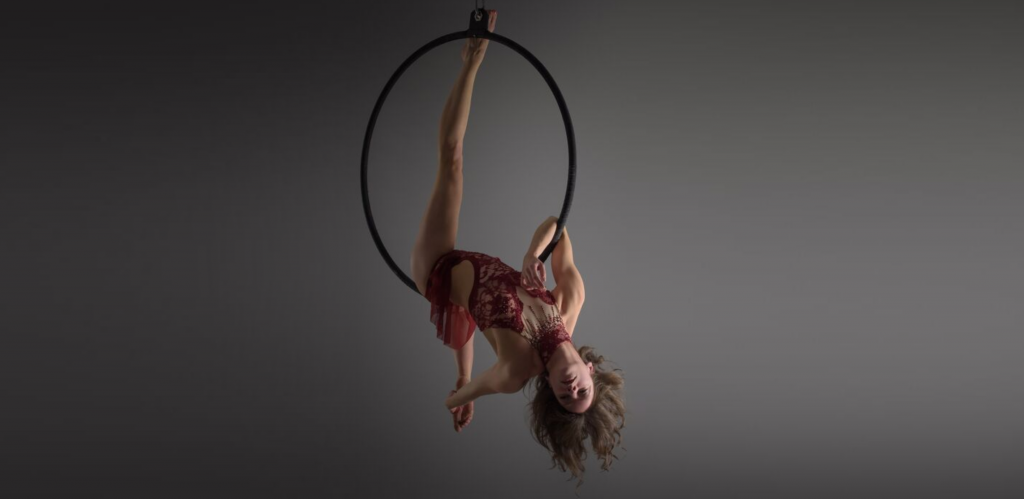 Course Details
Price: £45 per 4 week course
Course Duration: 4 weeks
Days & Times: Sundays 10:00am
Aerial Hoop Instructor: Holly Munson
Location: Firefly Poles Studio