Whether it's your first competition or your tenth it will still be a nerve-wracking day for any performer. The best thing you can do is be prepared for the day you have ahead and make sure you have fun. All the training that you put yourself through will help to get you through your competition day. So now you just need to be prepared for it.
Your Routine
Make sure that you read all of the information about your competition in full, before finalising your routine. Depending on what level of competition you are doing, you may only be allowed to do certain moves or you may have to use both a spinning and a static pole. There will also be rules about the length of music allowed and rules of disqualification. Make sure you are fully aware of what you are and are not allowed to do. The worst thing would be for you to train hard and get disqualified for something you could have easily avoided.
As a general rule it is best to keep your routine fitness based and stay away from any moves that could be portrayed as being provocative. You will showcase a lot more of your skills and will probably earn more points from the judges.
Props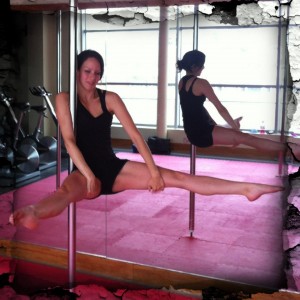 I tend to stay away from using props in my performances as I feel they are another thing for me to worry about. Using one prop that you can easily get rid of can be nice but props that you need to carry, move or take off can hinder your performance. I saw one competitor using gloves and a corset as props – both of which she took off mid routine. Unfortunately for this lady she had a prop malfunction – she tried to take the corset off but it got stuck, meaning that she had to pull it off over her head. This is the only part of her routine that I remember. I have seen this lady perform this routine twice and the second time was a lot smoother, although she did still have a few prop related issues. The second time around I was able to focus on her routine, which was very good.
I have seen people use hoodies, photo frames, pens and chairs – all of which they used for a brief moment in their routine and then forgot about them. This may be something to consider when performing. However many props you decided to use, it is important to keep rehearsing with them – you will perform a much smoother routine the more you practise as per performance.
Points
It is important to research into what you will be judged on in the competition. Sometimes there are awards for best costume, best trick, most entertaining performance and sometimes it is simply first and second place. You can be judged on presentation, grace, skill, whole use of the height of the pole and ability on spinning and static poles. The list goes on, so it is important to check what you will be judged on so you are fully prepared.
Poles
It is more than likely that the poles you will learn on will be slightly different to the poles at the competition, so it is best to check which poles they will be using so that you can train accordingly. The poles may be the same width, but could be a different height. It is very important to get used to using different heights as it adds another element to your routine.
The biggest thing to get used to is using both spinning and static poles if it is required in your competition. Everyone prefers learning on one type of pole rather than the other, but it is best to practise on both – you will not necessarily get marked down for using one pole, but generally you will get more marks if you use both. On the pole that you are less used to, it is much better to do slightly easier moves and get them perfect, rather than try harder moves that you are not very confident in and may not perform well.
Costume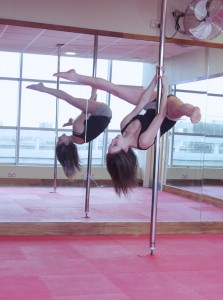 It is imperative that you rehearse your routine in the costume that you will be wearing on the day. Some of my ladies wore tutus over their shorts and cut them shorter as they found they kept getting stuck on them. It is important that you are comfortable, remain covered up in the necessary areas and have enough skin contact for your routine. I generally wear something tight like a sports bra and skin-tight shorts and then wear my costume over this. In this way I know that my under layer will always keep me covered up and I still get to wear a costume on top.
I have seen a few ladies performing Burlesque inspired routines at pole competitions. Some were great while one or two were verging on being too raunchy – generally frowned upon as pole competitions are fitness based. One lady in particular was wearing a very small top and exposed herself by accident. She was disqualified half way through her routine. Wear a costume that you are very comfortable in – something that gives you the most grip, but keeps you covered up in all the right places.
Pre-Competition
Before the day you will need to think about everything leading up to the competition to minimise any unnecessary stress.
Work out where the venue is.
Work out how to get to the venue – check for any planned disruptions to your journey.
Work out if it is better to stay in a hotel the night before to limit the possibility of being late to your competition.
Find out what time you can get there to rehearse.
Find out if there are any rehearsal poles for you to use.
Make sure you know the pole size and if there is a spinning pole or not – and where they are located on the stage.
Try to look up previous competitions at that venue so you know what to expect.
The Night Before
A good nights sleep is always helpful the night before a big event – though due to nerves this is not always possible. Most people I speak to can't sleep the night before a competition. Remember nerves can be a good thing – they keep you alert, focused and ready to perform.
Try to prepare everything that you need the night before to limit any panic. Write down a list of everything you will need and make sure you pack this. Include costumes, anything you need for your hair, something loose and comfy to wear over your costume in case you get cold, shoes to walk around in, your music and any grip aides that you need. It is best to bring plenty of water as well as food for the day – you never know what the venue will be able to offer and so it is best to be prepared.
The Morning of the Competition
Hopefully you will have carefully planned how you are getting to your competition and have packed your bags already. All you have to do, is get there! Make sure you have a healthy breakfast and make sure you neither starve yourself nor over eat. Allow plenty of time to get to your venue and set off on your journey.
The Day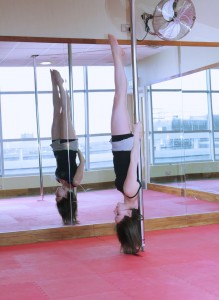 Most pole dance competitions will allow competitors to arrive at least an hour before the public are allowed in, in order to prepare and go over their routine in the venue. While going through your routine make sure you don't over do it – save your energy for your competition. That said a good warm up and some stretching is important.
In the pole community you are likely to see the same faces over and over again – especially if you are going to keep competing. It is important to make friends in this setting – my first competition showed me that all of the girls competing were lovely and were all there for the love of pole dance. Be supportive to others and do not judge – these ladies will be supporting you as well and all know how much hard work it is.
Try and enjoy yourself and much as you can – soak up all the atmosphere, as not everyday is competition day. When looking back, the day itself will whizz by! So many of the girls get very nervous before they perform that they just want to give up and go home. The best tactic is just to get excited about the idea of showing off your routine and I'm sure you'll have fun and want to perform over and over again.
Network. Competition days have a great deal of important people there. Try and do your research to find out who the judges are, and if possible, who the fellow competitors are. Usually a list will be published a while before the event. It will put you in a great position and make you seem much more professional if you have an idea of who everyone is. At one competition I saw a performer ask Nico Modestine – Mr Pole Dance UK, if he could pole dance… a few minutes after he had performed. Needless to say the lady in question spent most of the rest of the afternoon apologising!
Try and get some of your friends to come and watch. The spectator tickets are very cheap and it is always nice to have support. They can also try to film you so that you have a momentum of the day and can watch your performance back.
First Place?
While everyone has winning in mind, not everyone can come first. I didn't place in my first competition but I was so proud of the routine that I performed. I saw the winners performance and thought that she deserved first place. She was graceful, elegant and had a great amount of strength and skill in her performance. This does not take anything away from how I performed – I certainly did the best that I could and will always be proud of it. There will be many more competitions for me.
Reflection
Regardless of how well you did in the competition it is important to remain proud of yourself and the effort you have made to get  to where you are. Just think back to any hard times or moves that you couldn't master that you have since put in to your routine. The main thing is to stay positive and keep happy. If you did win, think of which competition you want to enter next!
Hopefully you will have made friends with those who were performing and these are great people to keep in contact with – and potentially good friends in the future. It is always nice to hang around after if you can and talk to other performers, judges and anyone who wants to come and say hello!
My most recent competition was at the Pole2Pole Professional Cup in Essex on 25th August 2012. I had a great day and met a lot of lovely people. The event was very well run and all those involved had a great time. If you would like any advice about competing feel free to contact us at fireflypoles.co.uk. For all of those who would like to see my entry, here it is, I hope you enjoy: